USS Plunger SS-2 Tribute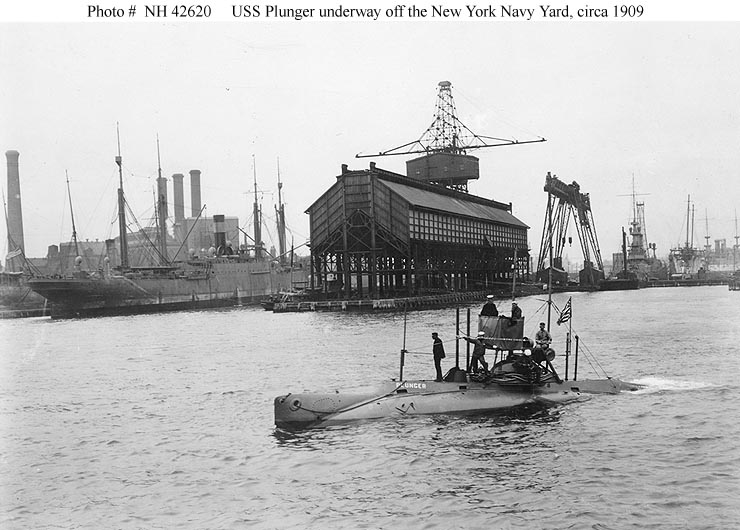 Keel Laid 21May1901
Launched 1Feb1902
Commissioned 19Sep1903
Decommissioned 6Nov1909
Length 63'10" Draft 10'7" Beam 11'11"
Displacement 123 tons
Complement 1 officer and 6 men
The first submarine ordered by the Navy was the SS-1, named the USS Plunger. Ordered from the Holland Torpedo Boat Company in March 1895, it failed its sea trials and the contract was canceled by the Navy in 1900. The Navy used the funds to order a second submarine, also named USS Plunger, from Holland in 1900. The SS-2 successfully completed its acceptance trials and was commissioned on 19 September, 1903 at the Holland docks in Suffolf, Long Island, with LT. Charles P. Nelson, commanding.
The SS-2 spent its first years helping to develop weapons and tactics for submarine warfare, underwater communications devices and ship design. One of the high points in this period was a visit by President Theodore Roosevelt, the first presidential visit to a US submarine. Included in his itinerary were a trip to the bottom of Long Island Sound, a drill on loss of all power, and conning the boat through practice torpedo runs. Upon disembarking, President Roosevelt remarked that "Never in my life have I had such a diverting day nor can I ever recall having so much enjoyment in so few hours as today." So impressed was he, in fact, that he authorized by executive order the forerunner of modern submarine pay - the payment of one dollar to each man for each dive made.
TheSS-2 was decommissioned at the Charleston Navy Shipyard on 6 November 1909 with Ensign Chester W. Nimitz, commanding.
USS Plunger SS-2 Large Picture
USS Plunger SS-2 Picture
USS Plunger SS-2 Picture
USS Plunger SS-2 Picture
USS Plunger SS-2 Picture
USS Plunger SS-2 Picture
USS Plunger SS-2 Picture
USS Plunger SS-2 Picture